Note: As of February, 2005, my dog Kona has found the perfect home!!!  So technically I should take this website down; however I have left it up as a tribute to a wonderful friend.
"The one absolutely unselfish friend that man can have in this world, the one that never deserts him, the one that never proves ungrateful or treacherous, is his dog. A man's dog stands by him in prosperity and poverty, in health and sickness. He will sleep on the cold ground, when the wintry winds blow and the snow drives fiercely, if only he may be near his master's side. He will kiss the hand that has no food to offer; he will lick the wounds and sores that come in encounter with the roughness of the world. He guards the sleep of his pauper master, as if he were a prince.  When all other friends desert, he remains. When riches take wings and reputation falls to pieces, he is as constant in his love as the sun in its' journey through the heavens."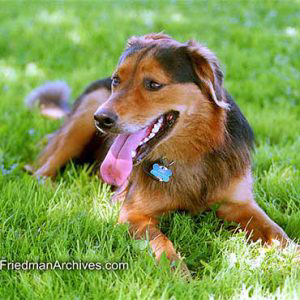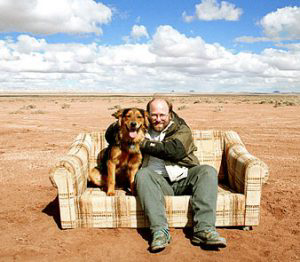 Me and Kona in Navajo Nation.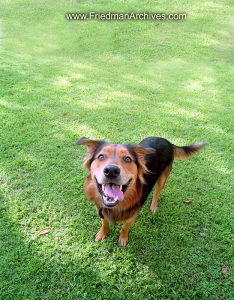 Ever since I was 8 I had always wanted a dog.  But living alone in small condos, starting a business and traveling extensively did not allow for such a gift.  It wasn't until my 40th birthday, when I got a .com job that I rented a 3-bedroom house with a fenced-in yard specifically so I could experience for myself the kind of joy that I had seen in so many other dog owners.  It took three months of searching through every dog pound and animal shelter in a 50-mile radius before he found me.  (You know how it is — dogs pick their owners, not the other way around.)  I knew instantly that this was the dog for me.  The pound from where I rescued him knew nothing of his history or his breed; they estimated that he was one year old when I adopted him (that was in 2000), and that he was a "Shepherd / Border Collie mix".  I brought him home and named him Kona, a name suggested by a Hawaiian friend of mine,  The name means "Leeward wind".  That was fitting, since Kona ran like the wind whenever we went out.  Shortly after that I took in roommates wtih dogs, so that Kona would have someone to play with and so that there would be many more people around to keep boredom at a minimum.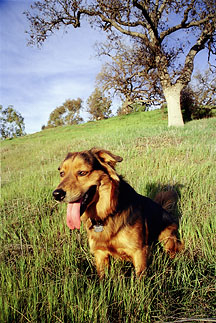 Adopting Kona was the best decision I could have made.  I discovered that dog ownership is a great antidote to high-stress jobs.  No matter how busy the day or how pressing matters were, I now had a reason to take a long walk every day, get some exercise, spend some time with my friend, sort matters out in my mind, and release some endorphins.  Balance came to life, if only a little bit.   Sundays were often spent at Dog Beach during the summer months.  Road trips that I took for photographic purposes were now shared with someone who really loves to hike!  Sometimes he would accompany me at my booth when I would sell Xaphoons at folk music festivals.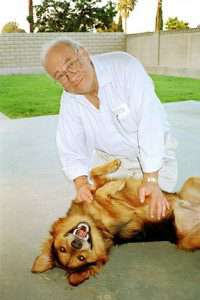 Turns out my dad always wanted a dog, too! The two got along wonderfully.
Like an adolescent child who listens only when it is convenient for him, Kona usually obeys but sometimes will become distracted with noteworthy results.  He will protect property to a fault.  Although he treats furniture with respect, the front screen door is a different story (especially when the doorbell rings!)  One time at the beach there was a Radio Controlled Airplane club, standing atop a cliff overhead and controlling their expensive handiwork.  Kona, being a fan of anything that moves, started chasing all the planes; first on the beach but then he started (and succeeded!) in scaling the nearly 100-foot vertical wall which separated the beach and the cliff.  Then he'd run back and forth along the edge of the cliff, chasing the airplanes which would sometimes come back to their owners and then leaping off the cliff once the planes went skyward again!  Kona performed these superhuman feats without a second thought (although he was limping for a few days after that…)
For the past four years, Kona has embodied everything that was ever said regarding the relationship between dogs and humans – he is faithful, loving, energetic, always happy, never complains, and was always there for me.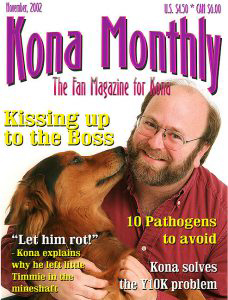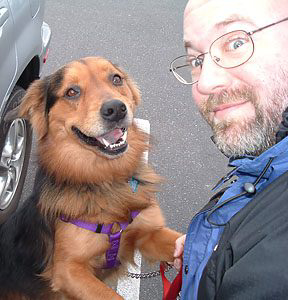 Alas, changes have come to my life once again – I am now engaged to be married and have changed residences, I am traveling for work very frequently, and the condo-near-the-beach which me and my Fiancé are living in is too small for such an energetic dog. For a wide variety of reasons, and as much as it pains me, I now must face the prospect of saying goodbye to Kona and find a suitable home for him.
So I have set up this webpage as a way of introducing you to Kona, and to let you know that this is not your average dog who gets relegated to the backyard by himself and for whom human contacted is restricted to feeding time. Kona wants to be a member of a large pack, a home filled with loving, active people who would treat him as one of the family and include him in many outings. In return you will get an exemplary canine who will always be happy to see you, will protect the den, give you exercise, and add balance to your life.
I will miss my dog terribly. But I will feel better knowing that he is in a good home that will care for him properly. If you think you can provide such a home, please email the dog at Kona@FriedmanArchives.com and tell him all about you!
Sincerely,
Gary Friedman