---






The Friedman Archives Photo Expeditions
Latvia the Beautiful
---
Latvia was once part of the USSR, but even then it had a certain pride and charm that was uncharacteristic of most of its Soviet neighbors.
Today's Latvia stands as both a monument to the past (with plenty of Soviet-era artifacts still around) and prosperity (many of its older cities have been revamped), providing a wonderful opportunity to capture a city and a proud culture still in transition.
One thing that struck me about Latvia during my initial trip in 1988 was how friendly and outwardly happy its people are - in stark contrast to what I experienced in Moscow. Now that most of the Russians have been ousted and the land restored to its original owning families, Latvia is once again emerging as the unspoiled, non-touristy jewel for explorers, ripe for the camera and unforgettable travel experiences.
One of the main benefits you can expect to reap from this trip is to sharpen your ability to pre-visualize your images, and "see" your surroundings in new ways. This is accomplished partly through the various photo-swapping evenings we will have throughout the week, since you can see how others saw the very same environment you were in, and it will stimulate your "how can I make this next shot better?" thinking process in future outings. You will also be traveling with a bunch of friendly photographers who will be challenging themselves to do the same thing. Never will you feel rushed or derided because you want to stop or stay somewhere and take a picture. We are all here to encourage each other to be as creative as we can. The fact that we're surrounded by a beautiful and friendly country is just icing on the cake! (And if you're a fan of leftover Soviet relics, there are sure to be plenty at every turn!)
Dates: July 13-20, 2008
Number of people: 14
Detailed Itinerary: (See below. It's a pretty full week!)
Cost: USD $1,800 per person (based on two people to a room). Fees are slightly higher if single occupancy is required.

The package includes all meals, housing, transportation within Latvia, and any national reserve entrance fees. Because participants will be arriving from all over the world, we cannot arrange group rates to get to Latvia. You will need to make travel arrangements to Riga on your own.
UK residents can book low-cost flights from Ryanair, typical costs for the return journey from Stansted and various other airports to Riga are around £130-£200 on the dates involved, including taxes.
DETAILED ITINERARY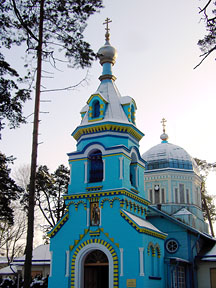 Day 1 - arrive in Riga; as soon as you arrive we will pick you up and you will be whisked off to our "Home Base" in Kurzeme village where you can settle in, shower, sleep, or explore the compound and the nearby beach. (More about our Home Base below.) Introductory lecture (Latvian culture, tips for great travel photos) in the evening,
Day 2 - Official "Welcome" and press conference with the village Mayor. (Beer and Chips galore! I am told that the mayor is so excited by our visit that he's practicing his speech now. :-) ) Then a brief trolley trip to explore the seaside village of Jurmala, a summer resort town and weekend retreat of aristocrats. (The president of Latvia resides here.) Gawk at the latest beach fashions encompassing maxi-heels and mini-skirts. The sunset doesn't happen until 10:00 PM here, so there's lots of time to rent row boats, and scout out your shot by the lake.
Day 3 - A walking trip through Riga. A bus will take us into Riga and leave us walking in the Old Town, which dates back over 800 years, and so bus and car traffic is restricted. (This is good for photos as the BMW's won't be blocking the view of ancient architectural relics.) Lots of pre-Soviet affluent buildings - with decorated facades, high ceilings, and old money. The famous Daugava river with its bridges can be photographed from the old town as well. This is an excellent opportunity for shots showing contrasts - Riga is plenty of old and new side-by-side. (If you don't feel like walking a full day, we can split the group into a long route and a short route.)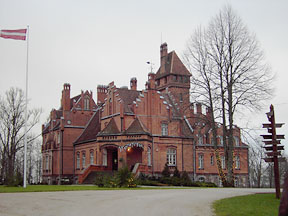 Day 4 - Visit Hunters Manor, an impressive 150-year-old country retreat castle built by the affluent Mayor of Riga as their hunting retreat. (Lots of hunting trophies inside too!). When the Soviets took over they used it for collective farm machinery storage (very practical) and sent the owners to Siberia. A medieval castle from 1301 follows. Then a short hop to Kuldiga, a charming town with tiny cobblestone streets and ancient towers, preserved from Latvia's past. This village is used by filmakers worldwide for historic shooting, and its array of "Ventas Rumba" waterfalls and old bridges along the river.
Day 5 - Kemeri national park has ancient trees (some torn out by recent storms, with huge roots in the air, some with new plants growing on the exposed roots!). This park is by the sea, and so is affected by very powerful sea storms. Latvia's "green" organizations have convinced the local authority to preserve the damaged forest as it is (instead of leveling it and turning it into a golf course). There are also many swamps. "The swamps are not gorgeous, but they are spooky and mysterious." This will present a good opportunity to practice capturing mood and emotion in a still life. (Underexposure and manual white balance will be the order of the day.)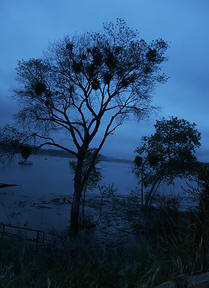 Day 6 and 7 - Travel to Vidzeme to visit the 800 year-old town of Sigulda, explore castle ruins, an ancient observation tower (from where we can see an aerial view of rolling hills and river valleys), and old-growth forests and sandstone layers of the Gauja River banks. Stay overnight in a local hotel. These will be two full days, but a worthy and memorable way to finish the tour.
Day 8 - Goodbye lecture; and several departures to the airport throughout the day. Those with later flights are free to wander and photograph the city, or ignore their surroundings in favor of tweaking their images on their laptop. Peaceful sleep all the way home.
There will also be occasional evening lectures / meetings where we can share stories and our favorite photos on laptop screen and projector.
Our "home base" is a brand new Guest House called "Niedras", built to European standards and situated on Valguma lake where you can sit at breakfast and enjoy the view of the hills and woods. This property was once an exclusive retreat for KGB VIP's where satisfaction was guaranteed for the Soviet elite: Deer were tied to a tree so old Generals could shoot it, and divers would secretly hang fish onto submerged fishing hooks to please their high-ranking vacationers. (I'm not kidding!!) The new facility includes a restaurant, indoor pool and a sauna. Each room has a private shower and bath.

==================
Your Hosts
Gary and Carol Friedman

(If you're reading this, you probably already know about Gary's photography, books, his teaching style, and love of travel. If you don't, you can read his bio here.)

Monika and Sherrif Ronit

Monika met Gary in 1988, when she was a participant in the historic Peace Child in Latvia US/USSR cultural exchange. When she was 14 she won a Soviet-wide Essay contest titled "If I were President of the World", (which focused on global ecology instead of the usual politics), which brought her to Holland to mingle with Nobel Laureates. Since then, she has established herself as a multi-lingual world traveler and icon in the travel and hospitality industry, spending equal time in the U.S., Europe, and Ibiza. Her knowledge of Western and (formerly) Eastern European worlds make her an ideal guide for photographers wishing to see the real country, not just the usual touristy spots. (Her brother was also an athlete in the 2002 Winter Olympics!)

If there were ever a category for "least likely outcome for an anti-nuclear-war cultural exchange", I think this collaboration would have to be it.
SIGN UP!
(The trip has already occurred; however you can express your interest in joining future expeditions by sending an email to expeditions@FriedmanArchives.com.)
---
Back to the Friedman Archives Home page